56 Passenger Charter Bus Rental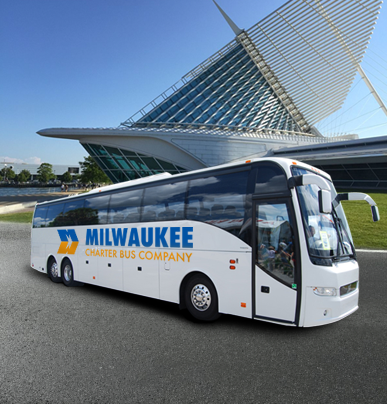 The largest groups traveling the longest distances enjoy booking the 56-passenger charter bus. With so much space, this motorcoach is able to comfortably transport even the largest groups, coming equipped with a number of premium amenities. This is the perfect solution for large groups that are transporting a high volume of luggage or equipment.
Choose from luxury amenities such as:
Adjustable
Reclining
Seats
AM/FM
Radio

Air Conditioned Cabins

Flat-screen TV and DVD Players

WiFi

Power Outlets

PA System

Milwaukee Charter Bus Company is ready to help coordinate your next corporate event, sports game, wedding, or school trip's transportation. Contact a representative at 414-369-6343 for more information.
Some of Our Charter & Minibuses:
18 Passenger Minibus Rental

The smallest motorcoach solution available, the 18-passenger minibus is a fast, compact solution that caters toward smaller groups traveling short distances. Commutes to and from weddings, basketball games, and corporate events are easier than ever before, all thanks to this fast, efficient solution.

20 Passenger Minibus Rental

Slightly larger than its 18-passenger counterpart, the 20-passenger minibus is a great solution for larger groups that need an efficient ride. Enhanced with premium safety features and several key amenities, this motorcoach is one of the best options on the road.

25 Passenger Minibus Rental

The largest minibus available, the 25-passenger minibus fits groups that are too large for a traditional minibus, but not quite large enough for a full-sized charter bus. Large business teams, sports teams, and educational institutions love booking these for cross-town trips.

56 Passenger Charter Bus Rental

The largest groups enjoy the 56-passenger charter bus because it is one of the most spacious solution on the road. Rather than splitting up your group in several smaller minibuses, rely on a single charter bus to completely accommodate all of your passengers and their luggage.